7 skills employers of the future will be looking for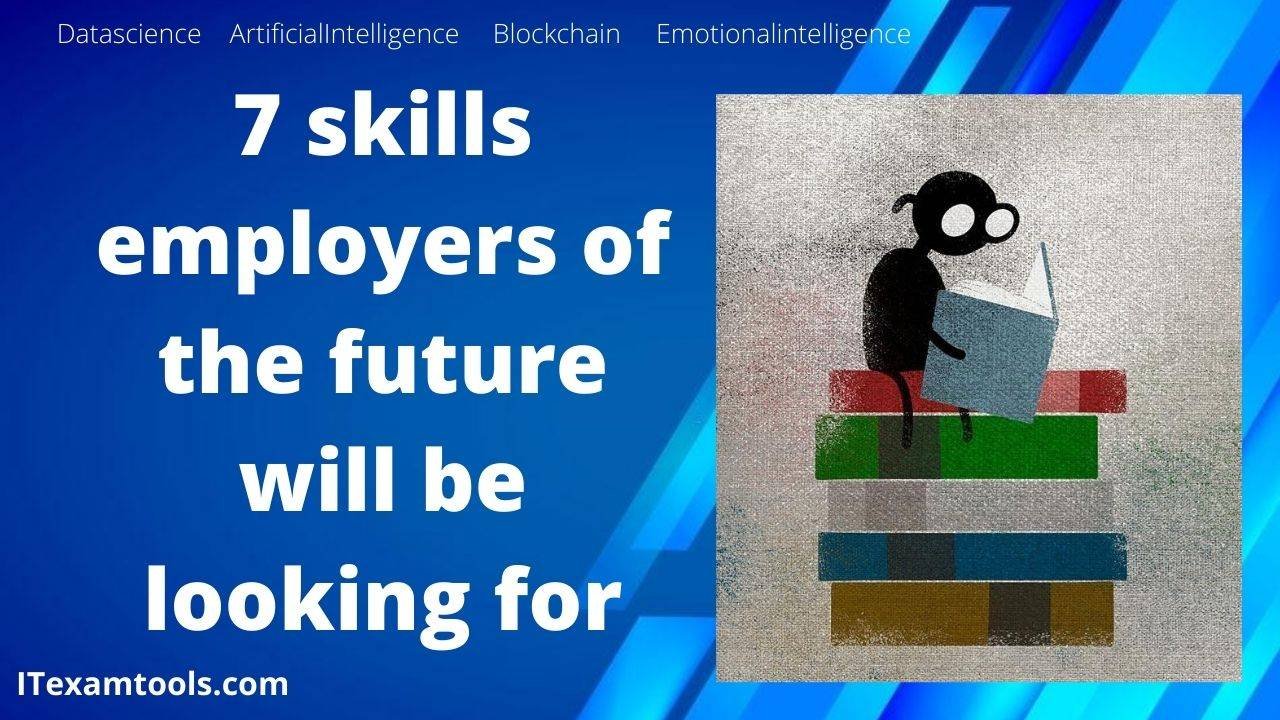 Futureproof your CV by learning about the skills employers of tomorrow will most likely be looking for, and the online courses you can take to train up.
The world of work is in a constant state of flux. The skills needed to be successful in today's workforce that differs substantially from those of the past. By the same logic, future occupations will also require completely new skills. New roles will come into being, some of which we don't yet have names for, as other functions become obsolete.
The next decade is predicted to be a time of, particularly intense change. The World Economic Forum predicts that we will need to reskill more than 1 billion people by 2030, as jobs are transformed by the Fourth Industrial Revolution. This will apply to current jobs as well as those yet to come into being.
The WEF predicts that 42% of the core skills required to perform existing jobs will change in the next couple of years. Changes are occurring at an exponential rate, wrote Klaus Schwab, the founder and executive chair of the WEF.
Also known as Industry 4.0, the defining trait of the Fourth Industrial Revolution is connectivity, with data and information being shared across platforms and media. Boundaries will be blurred between the physical, digital, and even biological spheres.
Automation and machine learning will be at the heart of these changes. These will perhaps lead to the most significant changes in terms of the skills required by the workforce. Old roles will be automated out, while new roles working with these automated systems will come into being. While this could vastly improve our lives, workers not in possession of the right skills are at risk of being left behind. The effects of this will be certainly be exacerbated by the coronavirus pandemic.
While many of the positive and negative effects will be in the hands of policymakers, those looking to improve their future employability would do well to identify and acquire the most desirable skills in the workplaces of the future. We are likely to see skills gaps emerging, which will create a high demand for qualified workers.
Below we've compiled a list of what we think some (but definitely not all!) of these future skills might be. The consensus seems to be that the jobs of the future will require a mixture of hard and soft skills. You'll find both in this list.
---
1. Data skills
The WEF predicts that data and AI will be one of the key drivers of future growth in the near future. We'll touch on AI below, but for now, let's focus on data skills.
It's almost a cliché to say we live in an age of big data. This doesn't make it any less true, however. Data is being harvested at a never-before-seen scale – used for everything from improving industrial processes to keeping shelves stacked to accurately targeting digital ads.
The scope and range of big data are only set to increase in years to come, facilitating machine learning and automation. Data is the language that will allow for connectivity at the heart of Industry 4.0. Accordingly, those who are able to organize data collection, interpret the results and make decisions based on these findings will be in high demand.
While this will be particularly relevant in professions like business analysis or data science, data literacy will be important across all professions. Farmers, marketers, and doctors alike will need to use data to make the best decisions.
Currently, there is a skills gap in terms of data literacy. Research from Accenture and Qlik shows that 74% of employees are uncomfortable working with data. This has a knock-on effect; on average, companies lose 43 hours of productivity per employee due to a lack of data literacy every year. The cost to various economies is considerable: $109 billion in the US, $24 billion in Germany, and $13 billion in the UK.
Additionally, PwC research shows that while 69% of employers will demand data skills from employees by 2021, only 17% of the UK workforce can be classed as 'data literate'.
Data skills, then, can be a key asset to those looking to boost their employability in the future jobs market.
Relevant careers
Business analyst
Data scientist
Marketer
Explore these FutureLearn courses
Business Analytics Using Forecasting, with National Tsing Hua University
Modern organizations collect huge amounts of data – but are you aware of for what they use it? In this course, you will discover how businesses use big data for forecasting and decision making.
Data Science: Data-Driven Decision Making, with Monash University
On this micro-credential, learners will discover how to tidy, harvest, and wrangle data, through practical exercises using R programming language. This is combined with data visualization techniques to help interpret and present findings.
Marketing Analytics, with the University of Virginia Darden School of Business
The wealth of information possessed by companies related to consumer choices does not always translate into better decision making. This course is intended to help marketers best interpret available data.
2. Artificial intelligence
AI is the second half of the WEF's pairing with data. Rapid advances in AI and machine learning are one of the key drivers of the Fourth Industrial Revolution. These will change the way that we work, dealing with repetitive tasks faster and with a greater degree of precision than any human ever could; mapping out trends to predict what will happen in the future, and creating highly-personalized user experiences.
While the risk to certain job functions is significant under the current system, AI has the potential to revolutionize the way we work and live for the better. Those with the AI skills to develop and implement artificial intelligence systems will be in high demand from employers and entrepreneurs looking to revolutionize and streamline the way we work and live.
While programming and analytic skills are central to the development of AI, a grasp of AI/machine learning will be highly advantageous to those in other job functions, who will be harnessing AI in their operations, and to the managers overseeing things.
Pre-coronavirus, it was predicted that ultimately AI would create more jobs than it would destroy. The current state of the global economy means that any forecasts of job creation need to be temporarily reassessed. Nevertheless, those with the skills to develop and harness artificial intelligence and machine learning will be in a good position. We will hopefully also see a trickle-down effect; the WEF has stated that AI and related technologies will boost economic growth, thus creating more jobs for everyone.
Relevant careers
Machine learning engineer
Business intelligence analyst
UI designer
Join free FutureLearn courses today
Digital Skills: Artificial Intelligence, with Accenture
On this digital skills micro-credential, learners will explore the past, present, and future of artificial intelligence. The focus will be on its impact in the workplace, with a consideration of how humans and AI interact, and the related skills.
Using Artificial Intelligence (AI) Technologies for Business Planning and Decision-making, with Coventry University and the Institute of Coding
Artificial intelligence can support business leaders in both automated business planning and decision-making processes. This course explores foundational concepts related to artificial intelligence to map how we move from data to knowledge.
Advanced Machine Learning, with The Open University and Persontyle
This advanced course explores statistical machine learning. Learners will discover where machine learning techniques come into data science project workflow, and explore supervised learning statistical modeling algorithms for classification and regression problems.
3. Blockchain
Blockchain topped LinkedIn's 2020 list of the most in-demand hard skills in 2020. While most people's first association with blockchain will be Bitcoin, the technology's potential business applications are far wider.
Blockchain is defined as a decentralized public ledger. It gives a robust and reliable record of trades and transactions while cutting out traditional authorities – in the case of Bitcoin, banks. The impact of blockchain in finance is predicted to be significant. The WEF estimates that 10% of the global GDP will be stored on blockchain by 2027.
Aside from finance, blockchain could also be used in the hiring, to check credentials and employment history – MIT is already awarding digital versions of its degrees. It could be used in logistics and supply chain management to track the movement of goods and map the lifecycle of products from source material to final usage. Or it can be used in the field of copyright management, as a record of ownership for intellectual property.
These are just a few examples of its potential applications. As blockchain is only beginning to impact the world outside of cryptocurrency, many job opportunities in the field will relate to the initial period of implementation and compliance.
Relevant careers
Blockchain engineer
Legal counselor
UX designer
Find the FutureLearn course for you
Cryptocurrency and Blockchain Technology Explained, with the University of Michigan
Blockchain first came to wider attention as the technology powering Bitcoin, which promised nothing less than a revolution in payments. While its fortunes have been mixed, the transformative potential of cryptocurrencies and blockchain is still very real, as explored on this course.
Introduction to Blockchain and Distributed Ledger Technology (DLT), with UCL Consultants and the UCL Centre for Blockchain Technologies
This course explores the prospective applications of blockchain and DLT through an organizational case study. Through this, you'll learn how blockchain can change how information and value is organized, and the potential of DLT to restructure business models.
Blockchain in the Energy Sector, with EIT InnoEnergy and EIT Digital
This course aims to provide a foundational understanding of blockchain and why it has captured the global imagination. The focus is then narrowed to the energy sector, to explore how the blockchain stands to disrupt some of the most essential, everyday services.
4. Sales and marketing
Sales and marketing don't sound like particularly futuristic careers. These skills will be essential in the workplace of the future, however, because they cannot be automated. For the time being at least, these roles require a human touch, in order to get an edge in new digital landscape.
In the current and future jobs market as mapped by the WEF, these roles currently account for the greatest share and will continue to do so in 2022, growing over the next two years. LinkedIn also includes sales in their top-10 job skills of 2020, alongside buzzier skills such as cloud computing and blockchain.
Marketing itself has been revolutionized by technology, offering new channels such as social media, affiliate marketing (another top LinkedIn skill), and digital content. More importantly, analytic tools allow for an unprecedented level of data collection and performance measurement. This increases the stakes, requiring marketers to up their game to stay competitive.
No matter how advanced the tools, however, human marketers will be needed to make decisions and steer campaigns. And salespeople will be needed to close deals with other human beings. The responsibility of bringing in revenue, directly or indirectly, continues to fall to these job functions.
Relevant careers
Salesperson
Social media manager
Affiliate marketing manager
Explore FutureLearn's online courses
Digital Marketing: Challenges and Insights, with the University of Southampton
Learn about emerging trends in digital culture and online consumer behavior, data analytics, and privacy – and their impact on marketers and consumers. This course will explore opportunities and challenges for marketers in the new exciting, but uncertain media landscape.
The Digital Economy: Selling Through Customer Insight, with The Open University and The Open University Business School
The channels open to marketing professionals are more sophisticated than ever – but this does not mean that consumers will flood in automatically. This course looks at the importance of customer relationship management, questions received wisdom, and looks into how data gives a closer view than ever of customers.
Digital Skills: Digital Marketing, with Accenture
This digital skills micro-credential gives an introduction to digital marketing, why it is important, and some of the channels open to modern marketers. Enrollees will learn how to use these in combination, balancing and integrating different digital marketing channels to target consumers.
5. Healthcare and nursing
The global population is aging. In 2015, 12.3% of the world's population was aged over 60. By 2030, it is estimated that this will rise to 16.4%, and then to 21.3% by 2050.
This trend will be particularly pronounced in Europe, North America, and East Asia, where declining birth rates and increased life expectancy will change the makeup of society.
Accordingly, there will be greater demand for healthcare and nursing skills in the employment market of the future. We are already seeing current and projected shortages of nurses in the UK, the US, Australia, and Japan – among others.
While nursing is where we see the most pressing demand, these nations are facing shortages for nearly every kind of healthcare profession.
If we measure these shortfalls next to the anticipated increase in need, we can see that nurses and other healthcare professionals will clearly in high demand, not just in the jobs market, but by humanity as a whole. No doubt the coronavirus pandemic has helped us all see this more clearly than ever before.
Relevant careers
Nurse
Healthcare professionals
Medical doctors
Explore free FutureLearn courses
FutureLearn offers around 200 specialized courses, micro-credentials, accredited programs, and even degrees aimed at current and aspiring healthcare and medical professionals, from prestigious international universities and medical research centers. Topics covered include, but are not limited to, fertility and birth, disease outbreak prevention, and nutrition.
Around 30 of the above courses, along with a couple of degree programs, are aimed specifically at nurses. Courses cover everything from basic first aid, to understanding insulin, to end-of-life care.
6. Emotional Intelligence
Emotional intelligence is one of the most frequently referenced skills in lists of what will be needed in the future jobs market – as well as the current one. It also carries personal benefits. Research has frequently shown that high emotional intelligence is one of the most reliable predictors of career success and salary levels.
The concept was first by Daniel Goleman, in his 1995 book Emotional Intelligence, which suggested there was more to intelligence than just IQ. Since then, it has been widely acknowledged and has been the subject of much scholarship and debate.
Empathy is at the heart of emotional intelligence (TED speaker Brené Brown is considered by many to be the leading authority of this subject). Those in possession of emotional intelligence are alive to their own feelings and those of others, and how these relate to actions and decision-making. They show humility in giving and receiving feedback, are reliable and committed to helping others, and willing to apologize and to forgive when necessary. As we move towards a globalized society, being aware of and considerate of cultural differences has also become a part of the emotional intelligence mix.
Possessing these qualities help us to work in collaborative environments, reduce stress, and get the best results from everyone. Naturally, you can see why employers would want to hire people like this. Unfortunately, there is a skills gap in emotional intelligence. While this is negative, it does create a clear opportunity for those with a view to improving their own future employability.
Relevant careers
Emotional intelligence is necessary for any career that involves working with other people. Whether a nurse, a CFO, or a coder, emotional intelligence will greatly strengthen your career skills.
Develop skills with free FutureLearn courses
Emotional Intelligence at Work, with Coventry University
This course looks at how emotional intelligence is important not just in our relationships with others, but also with ourselves. Learners will explore key theories around emotional intelligence and how these can be applied within organizational settings.
Developing Cultural Intelligence for Leadership, with Common Purpose
In the modern diverse and international organizational landscape, IQ and EQ must be supported by cultural intelligence – that is the ability to work with those different to us, be it in terms of gender, cultural background, professional sector, or any other measure. This course will help learners to understand this concept, and begin to learn how to develop it.
What is Leadership?, with Deakin University
Our concepts around what constitutes good leadership have changed greatly over the years, as we come to understand that the art of motivating people is more complex and nuanced than just telling them what to do. This course explores fundamental perspectives on leadership (a leader as a person and leadership as a practice), and the difference between leadership and management.
7. Creativity
Creativity is regularly identified as a key skill for the future. It's important to note that this does not apply only to 'creative' professions, but is relevant across industries and functions.
Indeed, the quality of creativity is one that has increased in importance in all types of professions in recent years, says Accenture. Indeed, it is argued that creativity is more important for more careers than the often-focussed upon STEM skills.
Creativity is deemed to be a particularly essential skill in the field of management and leadership and, interestingly, in science and engineering, according to this report. Accenture notes that in the latter category, the need for creativity (and socio-emotional intelligence) will increase as human-machine collaboration increases.
This is perhaps more broadly applicable. As machine learning and automation increasingly comes to take over many day-to-day functions, we will see something of a leveling effect between different organizations. The differentiating factor will be creativity.
Certainly, we've already seen the powerful influence of creativity in the world of tech entrepreneurship, where it is often the idea of how to employ technology rather than the technology itself which defines the biggest ideas (Everything from Tinder to Uber is based on GPS, for instance).
Schools will play a role in fostering creativity. Nesta calls for the integration of creativity into the curriculum – noting that in countries like Finland, Australia, and Canada are already working on this. Younger generations are digital natives, but they're also needs to be a focus on employing these skills with creativity.
Creativity is an umbrella term. Underneath it, comes an array of skills considered necessary for the workplaces of the future: complex problem solving, multidisciplinary thinking, and cognitive flexibility. Education plays a crucial part in fostering creativity – not just when learning at school or university, but throughout our lives, be it through formal learning or through life experience.
Relevant careers
Like emotional intelligence, creativity will be at the core of all future professions. And, like emotional intelligence, creativity in all its guises is something that cannot be automated. We may be able to use machines to do the legwork, but they can only do what we tell them.
It remains up to us to see the connections, take risks, and to identify the problems that we believe need to be solved. Machines can only learn, after all, what we tell them to.
Discover free online FutureLearn courses
Using Creative Problem Solving, with National Chiao Tung University
Traditional problem-solving skills are not always enough in a rapidly changing professional world; often creativity is required to find solutions. This hands-on course explores how different approaches can help solve problems in both the workplace and also in your everyday life.
Creative Problem Solving: Design Thinking in Health and Social Care, with St George's University and Howdu
Creative thinking can help us to solve challenges across sectors, including healthcare. This interdisciplinary course looks at how principles of design thinking can be brought to bear in the healthcare sector.
Get Creative with People to Solve Problems, with the University of Leeds and the Institute of Coding
One creative way to solve digital challenges is to employ a human-centered design. This course focuses on the five-stage process of human-centered design, with practical exercise to ground the process in real practice.