VMware Data Center Virtualization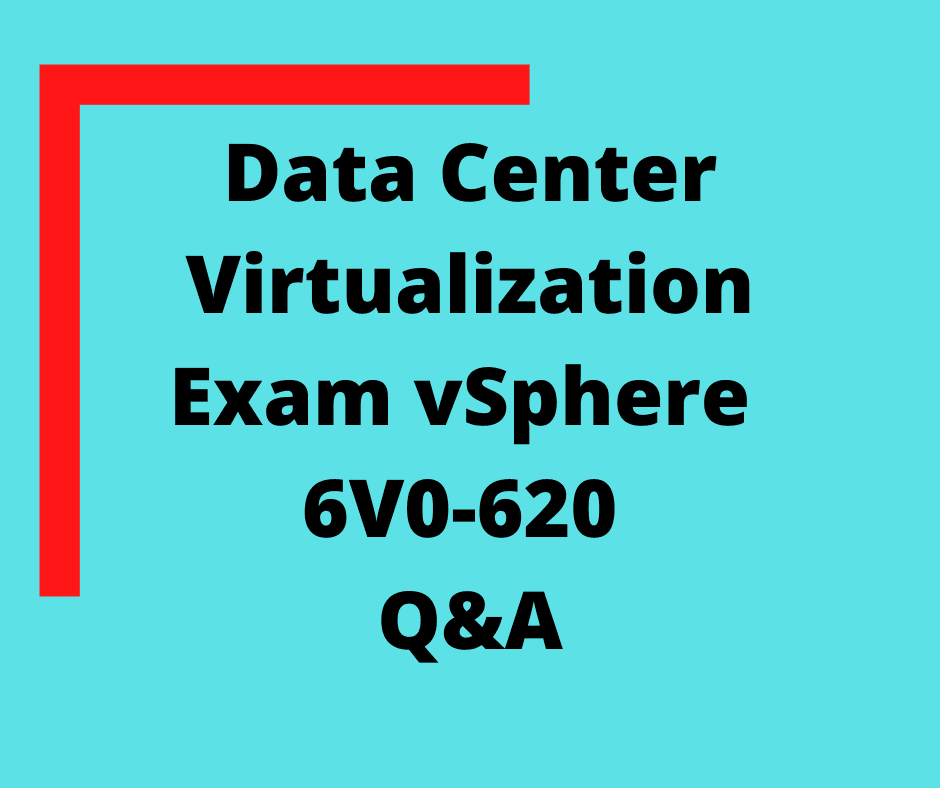 VMware Data Center Virtualization certifications are all about skills developed with vSphere 6 and vSphere 6.5. aspirants who are new to VMware data center virtualization need to complete a required training course and pass the vSphere 6 Foundations Exam (2V0-620) or the vSphere 6.5 Foundations Exam (2V0-602).
What is Data Center Virtualization?
Exam 2V0-620 question and answers
Data center virtualization is the process of creating a modern data center that is highly scalable, available and secure. With data center virtualization products that are software defined and highly automated, you can increase IT agility and create a seamless foundation to manage private and public cloud services alongside traditional on-premises infrastructure.
Modern data centers are fully virtualized, software defined and highly automated, providing consistent infrastructure and application delivery across a hybrid cloud environment. You can begin your virtual data center journey with server virtualization. The next steps involve adding storage and network virtualization, moving toward a fully virtualized software-defined data center architecture. This means virtualized compute, storage, networking, security and management all on one consistent foundation.
Benefits of Data Center Virtualization with VMware
Modernize for Cloud
Support future evolution with a consistent software stack on-prem that can expand into the public cloud and edge.
Eliminate Silos
Leverage existing investments for use in new cloud environments while eliminating vertical infrastructure silos.
Operate Efficiently
Reduce TCO with automated performance management, optimized capacity utilization, proactive planning and reduced mean time to resolution (MTTR).
Server Virtualization
Ensure a common operating environment across hybrid cloud with the industry-leading virtualization platform. Use existing virtualization tools to ensure consistent operations from edge to core to cloud.
Storage Virtualization and Availability
Extend virtualization to storage with a secure, integrated hyperconverged solution that is flexible and multi-cloud ready. Manage, compute, and storage within a single platform to improve business agility.
Network and Security Virtualization
Connect and protect applications across your data center and multi-cloud, regardless of where your applications run. Ensure intrinsic security, with data protection at rest and in-flight.
Cloud Management
Build an agile, efficient cloud infrastructure with application-focused management. vCloud Suite includes vSphere for compute virtualization plus the complete vRealize Suite for automated multi-cloud management.
Exam 2V0-620 question answers
QUESTION 1

An administrator reports that the System Event log data is only available for 24 hours when reviewing the Hardware Status tab.
Which condition could be responsible for the loss of data?

A. A Reset event log was executed.
B. The statistical collection level was set to a value of 1.
C. The boot disk of the host is corrupt.
D. Syslog has been configured at the vCenter Server level.

Answer: A

QUESTION 2
A virtual machine has been renamed and an administrator is unable to find files with the new virtual machine name in the datastore.
What is the reason for this

A. The names of the files on the datastore do not change.
B. The names of the files on the datastore have been corrupted.
C. The virtual machine needs to be re-added to the inventory.
D. The Distributed Resource Scheduler moved the virtual machine to another host.

Answer: A

QUESTION 3
Which three VLAN Tagging modes are available in vSphere 6.x? (Choose three.)

A. External Switch Tagging
B. Private VLAN Tagging
C. Virtual Switch Tagging
D. VXLAN Tagging
E. Virtual Guest Tagging

Answer: ACE
QUESTION 4

An administrator enables vSphere High Availability (HA) on an existing cluster with a large number of hosts and virtual machines. The administrator notices that
the setup of vSphere HA on some of the hosts is failing.
What step, if taken, might resolve this issue?
A. Increase the value of the config.vpxd.das.electionWaitTimeSec setting.
B. Set the value of vpxd.das.aamMemoryLimit to 256.
C. Set the value of the das.useDefaultIsolationAddress setting to False.
D. Increase the value of the das.iostatsinterval setting.
Answer: A

QUESTION 5

You are creating a virtual machine in the Web Client using the New Virtual Machine wizard.
Which two steps are required? (Choose two.)

A. Select a valid name.
B. Select a cluster for the compute resource.
C. Select a network adapter.
D. Select the virtual machine compatibility.

Answer: AD
QUESTION 6

What differentiates a private cloud from a vSphere Infrastructure?
A. A private cloud requires pooled resources including storage and networking.
B. vSphere Infrastructure assumes a secure location for the workloads.
C. vSphere Infrastructure allows consumption of resources over open standards.
D. A private cloud assumes the consumer will maintain their portion of the infrastructure.

Answer: A

Explanation: Since private cloud requires pooled resources which includes storage and networking, it is different from vSphere infrastructure that doesn't require
pooled resources.

QUESTION 7

An attempt to enable vSphere Fault Tolerance for a powered-on virtual machine fails.
Which two scenarios would result in this failure? (Choose two.)

A. The virtual machine has three vCPUs configured.
B. The host on which the virtual machine is running has insufficient memory resources.
C. The virtual machine has insufficient resources to accommodate full reservation plus the overhead memory.
D. VMware High Availability is enabled on the cluster of which this host is a member.
Answer: BC

QUESTION 8

An administrator is setting up vSphere Auto Deploy to deploy 25 ESXi 6.x hosts using the vCenter Server Virtual Appliance (vCSA). What would be considered
best practices for Auto Deploy? (Choose three.)

A. Enable vSphere HA on the cluster.
B. Protect the vCenter server with Fault Tolerance.
C. Install the Auto Deploy service on the VCSA.
D. Include the vmware-fdm VIB in the image profile.
E. Use PowerCLI to write a rule that assigns a custom image profile to the target hosts.

Answer: ADE
QUESTION 9

In order for a company to meet regulatory requirements, all ESXi 6.x Hosts must be configured to direct logs to a syslog server.
What are two ways ESXi hosts can configured for this action? (Choose two)

A. Use the esxcli system syslog command.
B. Edit them in the ESXi host Advanced System Settings.
C. From the Syslog collector user interface of the Web Client.
D. Syslog logging is not available for ESXi Hosts.

Answer: AB

QUESTION 10

An administrator is monitoring a High Availability (HA) and Distributed Resource Scheduler (DRS) enabled cluster and has noticed that virtual machines in the
cluster are being migrated without user intervention.
Why is this happening?

A. The DRS Automation level is set to Fully Automated.
B. The Automation level is set to Automatic.
C. The DPM Threshold is set to Aggressive.
D. The Power Management feature is configured.

Answer: A

QUESTION 11

What are three goals of resource management within a cluster? (Choose three.)
A. To prevent virtual machines from monopolizing resources and to guarantee predictable service rates.
B. To exploit undercommitted resources and overcommit with graceful degradation.
C. To provide solutions to potential problems that you might encounter when using vCenter Server.
D. To control the relative importance of virtual machines and provide flexible dynamic partitioning.
E. To provide additional network administration capabilities.

Answer: ABD
QUESTION 12

A company is planning an upgrade from vSphere 4.x to vSphere 5. They currently have three dual CPU servers licensed for ESXi 4.1 Advanced
Each server has 256GB of RAM installed.
Their virtual machines are sized three ways. Light. 1v CPU, 4GB RAM
Medium. 2v CPU, 8GB RAM Heavy. 4 vCPU, 12GB RAM
The Production workload consists of. 20 Light servers
20 Medium servers
2 Heavy servers
The Development workload consists of. 10 Light servers
10 Medium servers
How will vSphere 5 licensing impact their upgrade? (Choose two.)

A. They will need to purchase additional ESXi licenses.
B. They will be able to reduce their power consumption.
C. They will be restricted from powering on additional virtual machines.
D. A license upgrade will be needed to add vCPUs to the Heavy servers.

Answer: BC
Explanation: Reference: http://www.gabesvirtualworld.com/vsphere-5-licensing-with-vram-isn%E2%80%99t-that-bad-at-all/

QUESTION 13

After selecting an object in vRealize Operations, how can a user compare the badge values of related child objects?
A. Use the Scoreboard tab
B. Use the Relationship tab
C. Use the Members tab
D. Use the Overview tab

Answer: A

QUESTION 14

Which type of Adapter does not require vmkernel networking?
A. Independent Hardware iSCSI Adapter
B. Dependent Hardware iSCSI Adapter
C. Software iSCSI Adapter
D. Software FCoE Adapter

Answer: A
QUESTION 15

An administrator is installing vCenter Server for an environment that has 40 ESXi 6.x Hosts and 150 virtual machines.
Which database would meet the minimal requirements needed for this task?

A. vFabric Postgres
B. Microsoft SQL Express 2008
C. Microsoft SQL Server 2014
D. Oracle 11g

Answer: C

QUESTION 16

What are two ways to identify TCP/IP stack information? (Choose two.)
A. Using the vSphere Web Client
B. Using esxcli network ip netstack
C. Using esxcfg-netstack
D. Using the vSphere Client

Answer: AB
QUESTION 17

An administrator is unable to create the first group in a new vRealize Operations environment.
What is the likely cause of the problem?
A. There are no group types defined.
B. The group is not defined in SSO.
C. There are more than 32 group types defined.
D. The description for the group is not provided.

Answer: A

QUESTION 18

An administrator needs to monitor traffic on vSwitches in a vSphere 6.x environment.
Which option, if configured, would accomplish this task?
A. Forged Transmits
B. MAC Address Changes
C. Promiscuous Mode
D. Notify Switches

Answer: C

QUESTION 19

An administrator must determine an appropriate backup solution, given these conditions:
? 50 of the virtual machines are in a resource pool named Finance.
? 50 of the virtual machines are in a resource pool named QA.
Which solution allows an administrator the ability to backup 100 virtual machines?

A. Use Snapshot Manager on the vCenter Server to backup the virtual machines.
B. Use the VMware Consolidated Backup (vcb) tool on the ESXi Host to backup the virtual machines.
C. Use the VMware Data Recovery (VDR) Appliance on the vCenter Server to backup the virtual machines.
D. Use the VMware Data Protection (VDP) Appliance on one of the ESXi Hosts to backupthe virtual machines.

Answer: D